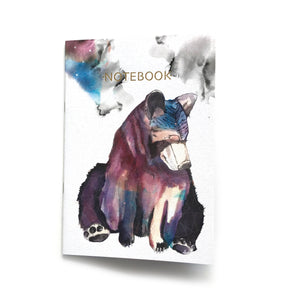 Spirit Bear Notebook
Make some Magic happen with This range of Spirit Animal Notebooks.
Each one is the perfect size to use as a journal, or a place to write your dreams and set intentions.
They are specially embossed with gold foil and entitled 'Notebook' 

Each book has an extra special printed inner cover.

Take them on your travels,  give yourself time to bring your plans and dreams to life.
Wrapped in a protective cellophane wrapper, with 40 lined pages.

Printed in the UK on FSC Certified paper.
Buy any 3 designs for £12 just use the code THREEDEAL when you check out!

A5 Size

H14.8 x W21cm

These come with a warning... Be careful what you wish for!